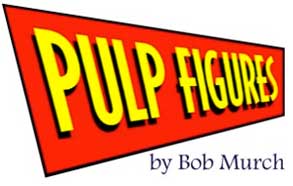 Product:
The Scarlet Patrol
Line:
Yukon Menace: Northland Adventures
Manufacturer:
Pulp Figures
Designer:
Bob Murch
Where to buy:
Pulp Figures
The Scenario
While running games, I frequently like to ask myself
"What if…"
questions. Which leads us to today's post.
Victorian Science Fiction
as a genre often takes place in and around London or within Great Britain. Influential literature supports this assumption—from Bram Stoker's
Dracula
to Gordon Dahlquist's
Glass Books of the Dream Eaters.
A frequent visitor in this genre is, of course, is the local constabulary; the Metropolitan London Police and their ubiquitous "bobbies" make regular appearances to either save the day or to mess things up for our heroes.
But with Jack the Ripper, Moriarty, and Edward Hyde prowling the streets, London really must be a crowded place to do nefarious business. Move to Canada, of course! Natural resources, industry, railroads, gold…and Mounties. But do they
always
get their man?
If you're thinking that the Canadian Mounties are not Victorian enough, think again. Established in 1873 as the North West Mounted Police, by the
1890s
the Baden-Powell styled Stetson was being introduced as a more practical alternative than the standard pith helmet normally used by cavalry units (Mounties, after all, were "mounted").
About the Figures
Three members of the Scarlet Patrol on stakeout!
Bob Murch is a relatively well known designer—having done a fair amount of work for RAFM in the past. He sculpted their Call of Cthulhu line, and won several awards in doing so.
Over all, his designs are sturdy and solid; while some sculptors excel at abundant detail (Werner Klocke being a good example), Murch amply demonstrates elegance in simplicity. The details that define each character at there; extraneous and distracting embellishments are not. Some of the other lines DO have substantial detail, but I will review those at a later time.
Pulp Figures are generally sold as units of five unique miniatures, each with its own personality, pose and style. Although designed for use in the
Rugged Adventures
RPG (free to
download
), these figures would be a great addition to any RPG in which North American character would be welcome.
Bob Murch's love of the Pulp genre and of gaming in its own right show through in each of his figures. Along with the standard pulp-style heroes and heroines, there are also plenty of military units to satisfy your next invasion of Istanbul with Rocket Troops.
Pros
Come out with your hands up!
(The house is Flying Tricycle, now defunct.)
Superb casting. One could almost start painting straight out of the mail.
Economical. At $15.50 per package (usually five miniatures), the cost is quite reasonable.
Personality. Personality goes a long way. From expressions to pose, each figure—despite the fact that each is part of a police unit—is completely different from another.
Cons
I've tried hard to find fault with anything from Pulp Figures. When I do, I'll post it here first, but in the meantime, be confident that you'll be getting first-rate service and products from Pulp Figures.
Looks like I forgot to paint a few! Fresh out of the package, these figures require very little prep work.